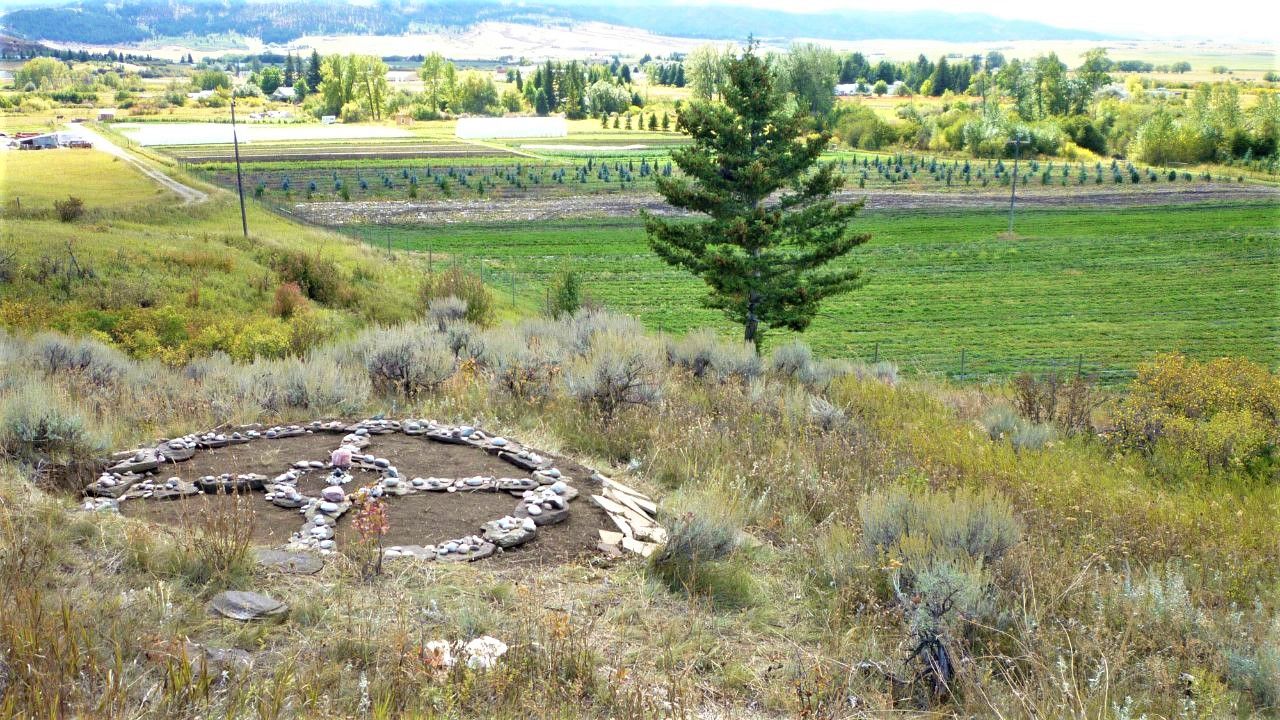 More fun than visiting a medicine wheel, is building one! Chris Snell helped me build my first; he built many as large as 40' wide on his family's ranch, the Lazy EL in Roscoe, Montana. He has built medicine wheels in many environments, including a city backyard.
The McKay Method® energy healing community has built three wheels over the years on a hill just east of Bozeman, Montana. They are approximately 10' in diameter, but have a powerful energetic effect on the whole Gallatin Valley.
In this version, flagstone forms the base structure – a foot in diameter for the outer circle and four spirit paths, with smaller ones for the inner circle. More active and vibrant crystals and semi-precious stones lay on top of the base stones to give each wheel its special intention, action and character.
The Peace, Love and Healing Wheel is composed of pink and green stones, the color/vibration of the heart. Its site is quite spectacular, on a hillside with a wide view of the Gallatin "Valley of Flowers.". The more time you spend in ceremony with a wheel, the more you activate the intention. The centerpoint crystal is a huge smokey quartz generator from a personal mine in Montana (thanks to Brad Somers). It glows along with the ring of green chrysoprase surrounding it.
This first wheel has been the site of many full moon gatherings and other group and personal meditations. This area is thick with Native American spirit guides; many tribes camped together in peace while they traded with nearby Fort Ellis in the early 1900's. Ann Sexton Bryan spent much time meditating in the Wheel while visioning her School graduate project, a group trip to perform healing ceremonies in Africa.
We built two other wheels nearby in 2009. The three wheels are in relationship on the hillside; following a path, one wheel leads to the next, but they are not in direct view of each other because of the contours of the land. All are unique in the energy they embody and generate.
The Ancestor Wheel is made up of dinosaur bones and petrified wood; it's a good place to get in touch with relatives and beings long gone. It is encircled by a nest of branches - inspired by Nick Brady's dream of being carried and lifted into a giant eagle's nest! The "Mother Tree" of the hillside stands watch over this wheel, and this spot is shady and intimate.
Meditating in the Ancestor Wheel
The next wheel is the Jasper Wheel, made with all kinds of red and gold jasper, including a special granular jasper called picture-stone that has rings of color. This wheel is very grounding and deeply nourishing. I like to go up there and just lay in the middle of it, soaking up the earthly energy.
Wheels are a powerful and creative way to manifest thought-forms that affect everything on a subtle energetic level, magnifying and broadcasting intention.
I've even had a personal wheel on a platter in my bedroom with stones for a very specific intention. Large or small, personal or shared, medicine wheels are a great way to work with stones to bring some good energy into your environment and the world!
Peace, love and healing -
Bear
Subscribe to receive my newsletter with commentary and great resources about personal development, healing, and spirituality.